Shower Doors & Mirrors
With over 35 years in the shower door business, we've served thousands of builders, homeowners, and commercial clients. Our expertise in the shower door industry has provided us with an opportunity to raise the standard for our customers.

Contact Santa Fe Glass today for a free, no-obligation quote! Our friendly staff is always willing to assist you in any way we can!
Shower Doors
At Santa Fe Glass, we are devoted to providing you with top-notch shower door options. Whether you need a simple replacement or are renovating the entire bathroom, we have beautiful, high-quality shower doors that will add value and appeal to any home.
Value And Functionality
We stock shower doors that are suitable for both commercial and residential properties. Our residential services are designed to provide a more functional bathing experience while increasing your home's financial and aesthetic value. With skilled technicians experienced in installing all types of shower doors, you'll enjoy a seamless transition from your old bathroom to your attractive new space.
An Array Of Options
Santa Fe Glass offers an assortment of glass options and finishes, each with unique advantages. For instance, frameless glass shower doors showcase a sleek look with minimal hardware and are easy to clean. Neo-angle doors are suitable for small spaces, especially corner showers. Glass steam shower enclosures are made to accumulate steam, creating a luxury spa atmosphere. Sliding glass shower doors are both modern and functional. Sliding barn doors are available for openings 55"and larger.
Custom Designs
If you have unique requests or an oddly-shaped shower area, our custom installation option is the perfect choice. We can create doors that fit any configuration. Connecting with us at the beginning of the design phase will facilitate a smooth construction and installation process. The layout of your shower, especially the placement of the showerhead, is just one of the aspects we consider when creating your custom project.
Shower Door Showroom
Come visit our Shower Door Showroom at our office in Independence. We have full size shower doors installed so you can see many of our design options, hardware, and other features. We also have a display of mirrors and frames. Watch our video (no sound) below to preview our showroom.
Shower Door Gallery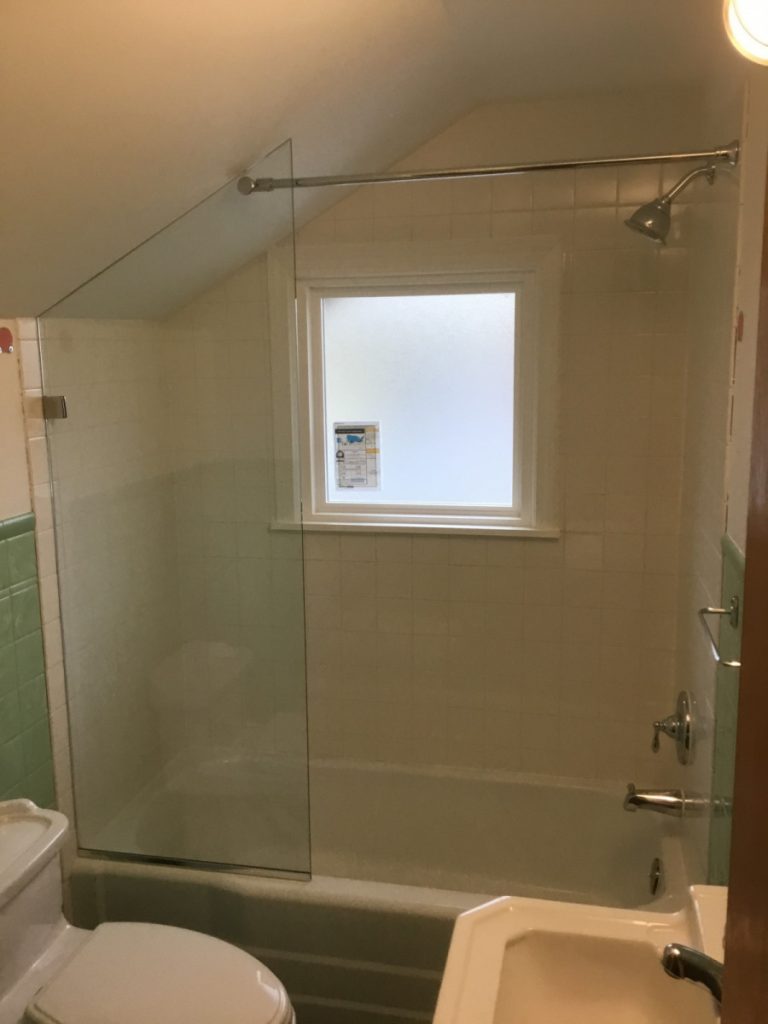 Mirrors
As one of the largest commercial and residential glass businesses in the state of Missouri, Santa Fe Glass has been providing our customers with superior mirror installation and mirror glass replacement services for more than six decades. We offer framed or unframed bathroom mirrors, antique mirrors, and bedroom mirrors. Specialty mirrors for dance rooms and even a mirrored wall or wall art mirror pieces for your living or dining room.
It doesn't matter if you are in need of a special design for your guest bathroom or you require assistance with mounting your mirror, Santa Fe Glass has the experience to give you what you desire.
Custom Cutting
We understand the hassle that can sometimes come along with finding the perfect mirror. That's why we offer a mirror cutting service that will provide you with functionality and exude your personality. Whether you are in search of a mirrored wall or vanity, we are dedicated to creating a design suitable for your home. Shape options include rectangular, square, round, and oval.
Custom Installation
For some, the process of installing a mirror can be somewhat tricky. Luckily, our technicians have the expertise and necessary hardware to install any design correctly. Proper installation often requires much more than a nail and a hammer. Some selections include the use of decorative clips, special adhesives, and support bars.